For older news briefs from the home page, please refer to the Archives section of this website.
All of our upcoming events and meetings are marked on our Calendar as well.
UANA General/Annual Meeting - TBA - Spring 2016

Please see the WFU calendar to find out dates for students moving in, when classes begin, fall break, exams, holiday breaks, spring break, and commencement.
Helpful Tips For Securing Your Home And Property

Please Continue To Be Alert!
This is a reminder to be alert and aware of your surroundings and to call the police if you observe any suspicious behavior or persons in the neighborhood.

Call the police if a stranger knocks on your door asking for money, or requesting to do lawn work, etc. That is how they determine what houses to break into.

First, they knock on the door and if nobody answers, they go around to the back door and kick it in. If somebody does answer the door, they make up a bogus reason for knocking. DO NOT OPEN YOUR DOOR TO A STRANGER. Ask them who they are and what they want through the "closed" door. Get rid of them and CALL THE POLICE IMMEDIATELY! EVEN IF THEY SEEM LEGITIMATE!

It is better to call the police and have them find it is legitimate, than to call the police later after a break in has occurred. That call to the police could prevent you or a neighbor from being a victim. The police have caught theives in other neighborhoods prior to break-ins because watchful neighbors called them about suspicious people knocking on doors and wandering around the neighbohoods.

********************
The following tips are provided to help you secure your home and cars from a possible break-in.
These tips are courtesy Cprl Tim Convery, WSPD:
1. Remember the phrase, "What's not seen, is not taken." Remove any items out of your vehicles and to lock your vehicles at all times.
2. If you're going on vacation or going to be away from your residence for some time, try to leave some lights on. We are creatures of habit and tend to stay in the same rooms around the same times. I, personally, buy light timers and place the timers in rooms according to my personal habits.
3. I also leave a radio on so that when I enter my residence from the main door, I can hear that someone is talking but cannot determine what is being said. For this to work, it is best to find a channel with "talk radio." Talk radio very rarely has music playing and talk all the time. This will make the suspect(s) think that someone is home.
4. Put exterior lights on daylight timers. So the lights will turn on at night and off in the daytime.
5. Finally, let everyone become proactive neighbors and report all "suspicious activity." It is better that the police respond to a suspicious behavior and find nothing has occurred, than to have the police respond to investigate a break in. By calling the police, does not mean you have to provide your name or personal information. You can "refuse" to provide that information and still have officers respond. The point is to look out for each other and report ANY suspicious activity. It helps the police, help your neighborhood.
These tips are coutresy Donna McGalliard, WFU - Residence Life & Housing:
As we made you aware a couple of weeks ago, there are a high number of break-ins occurring around Winston-Salem that are a unique experience for us this year. We have just been informed by Wake Forest University Police and the Winston-Salem Police Department of several more break-ins that have occurred in the areas surrounding the University.
We are alerting you for your own safety and ask that you be aware of your neighbors properties as well. Many of our neighbors and students are away enjoying the holidays now and their homes are at increased risk, even if they took the proper safety measures prior to their departure. Additionally, the majority of the recent house break-ins that our community has experienced have occurred during the day. Alert your neighbors to monitor your home if you are going to be away for any extended period of time.
We ask that you particularly follow the safety measures reflected below:
1. Day or night, be alert and aware of your surroundings.
2. Report any suspicious behavior or unusual vehicles or activities, such as someone asking for information or directions, claiming to be lost, seeking money for special collections, etc.
3. Please immediately report detailed descriptions of individuals, direction of travel, vehicle information and tag number to the local law enforcement.
Working together, we can help law enforcement find those responsible for these crimes. Again, please contact the Winston-Salem Police Department (911 or 773-7700) or Wake Forest University Police (758-5591) if you see any suspicious activity around your home or in your neighborhood.
This tip is courtesy Chris Barbee, Rosedale Cr:
My understanding of the recent residential break-ins is that entry has been gained by kicking in the front, side, or back door. Most doors can be forced open with one committed kick. Standard door frames are constructed with 1/2" to 3/4" door jambs and strike plates secured with 3/4" screws; this is their weakness. Entry doors can be further secured by removing the 3/4" screws and replacing them with quality 3.5" to 4" screws which pass through the door jamb into the surrounding 2x4 framing.
This little fix takes minutes and offers a door which is substantially more secure. Hoping this tip may help protect our neighbors, or at least provide a little more peace of mind for them. Let's all keep our eyes and ears open and report ANYTHING that appears suspicious to the police.
So, buy a box of 3.5" screws and share them with your neighbors.
I would also add to this to check with any senior neighbors near you to make sure they get this information and also if they may need any assistance to secure their doors.
This tip is courtesy Jim Lineberger, Friendship Cr:
If you haven't already done so, PLEASE document the belongings in your home....take pictures, write down SERIAL NUMBERS and other relevant info so that this can be provided to the police in case of a break in.
This information can lead to an arrest when someone tries to sell stolen goods to a pawn shop...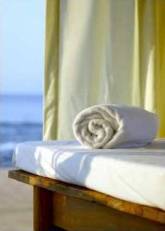 Escape from the day to day stress of life; melt away the tension while you indulge yourself in a world of luxurious relaxation with a therapeutic Swedish and deep tissue massage from Oak Crest Natural Bodyworks. Kent T. Strupe NCTMB, LMBT ~ Licensed Massage Therapist ~ Lic # 3242 ~ 18 years of experience ~ Hours By Appointment ~ Call 918.4937 or email.
The following quotes from actor Robert Young's character, Jim Anderson, in the classic 1950's sitcom Father Knows Best, offers some intersting advice about citizenship. These are from the second episode of Season One.
"Active participation is the basis of good citizenship."
"A good citizen doesn't shirk his duties. He does his share to help others. He doesn't have to be asked a hundred times. He volunteers willingly and cheerfully."

University Area Neighborhood Association (UANA), P O Box 17301, Winston-Salem, NC 27116